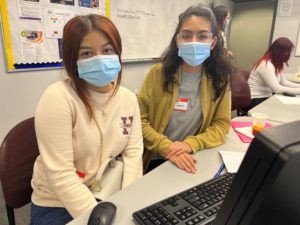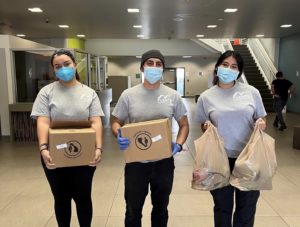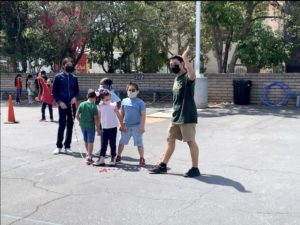 Give your time and share your passion!
Without the support of our volunteers, we would simply not be able to provide as many opportunities for learning. There are a variety of ways to lend a hand at PUENTE depending on your interests, availability, and desired experience. PUENTE volunteers — both individuals and groups — fulfill a number of important roles, both at our Boyle Heights campus and virtually. 
Get started by reviewing our volunteer opportunities and filling out the volunteer interest form below. Questions? Email Maria Esparza at volunteer@puente.org or call 323-780-1163.
Current Opportunities
Volunteers support PUENTE's mission to enrich the neighborhood through education.
Citizenship Class
Provide teaching assistance to assist our students to prepare for the U.S. naturalization test. You can help to guide community members in becoming new American citizens.
Special Events
Each year, PUENTE hosts fundraising and engagement events to reach out to our community and support our programs. Events include Back to School Bash, Salud PUENTE, Holiday Under the Stars, and Run with PUENTE.
Children's Programs: Classroom Assistant.
Volunteers in the classroom make a difference for children's lives by assisting PUENTE educators in our Preschool, Charter School, After School, and Summer Camp programs. Volunteer support roles include providing students with extra help or supervision, delivering enrichment activities (e.g., art, music), and assisting teachers with snack and recess time. Volunteering in any children's classroom requires attending an orientation session, completing a fingerprint scan, and submitting a TB test clearance, for anyone over the age of 18.
College and Career Program: Professional Guidance
High school students in the PUENTE College and Career Program benefit from the support of volunteers from the STEM fields and beyond. Guest speakers visit PUENTE students during their weekly college and career preparedness seminars on campus at our partner sites. And every spring, PUENTE plays host to a variety of professionals who visit the PUENTE campus for our Career Fair. Volunteers support the weekly seminars and the annual career fair by sharing the story of their career path, answering student questions about their profession, or providing informational interview opportunities.
PUENTE Community Garden
Help build and expand our new garden with weeding, turning compost, removing leaves, watering and general garden maintenance. Our goal is to create hands-on learning opportunities outside the classroom, encourage teamwork, and teach PUENTE pre-school and elementary students about the direct relationship between nature and our food supply.
College and Career Program : Career Speaker Series
This workshop is for our high school students that are preparing to apply to college and need guidance about how to demonstrate their strengths and talents in personal statements. We are looking for volunteers who can help our students brainstorm and encourage our students to think less about the prompt and more about what aspects of themselves they think are most worthy of highlighting. As a volunteer you don't need to be a professional in this field, our ask is that you can support our students complete their application through a series of 1:1 conversation, writing sessions and brain storming. The time commitment is a total of 9 hours spread over 3 months. We will begin in September and celebrate everyone's accomplishments in November.
College and Career Program : Personal Statement Workshop
We are seeking volunteers to share their personal career journey to our high school students beginning in the month of September 2022. Our goal is to provide our students with a broadened spectrum of jobs and career pathways while also giving them guidance, support and perspective for their future journey. Volunteer hours are flexible. We will provide career speaker guiding questions and we encourage volunteer to take the lead and be as creative as they would like during their session.
PUENTE Computer Lab
Our lab is opened to all adult PUENTE students who need a space to study, complete homework assignments or explore educational and employment opportunities. We are looking for volunteers who can oversee our new monthly lab hours and are comfortable offering general support to our students during lab hours.
The online Volunteer Interest Form should be submitted electronically. Volunteers must submit clearance of TB prior to starting volunteer service. Clearance for TB is valid for a period of up to four (4) years for in-person program opportunities. In-person program volunteers must also submit to a one-time fingerprinting. PUENTE and LAUSD adhere to the California State statutes pertaining to supervised volunteerism in public schools. Any volunteer applicant whose name appears on the Megan's Law online database is prohibited from serving as an office volunteer and as an on campus school volunteer in any capacity for any length of time, including for one-time activities.