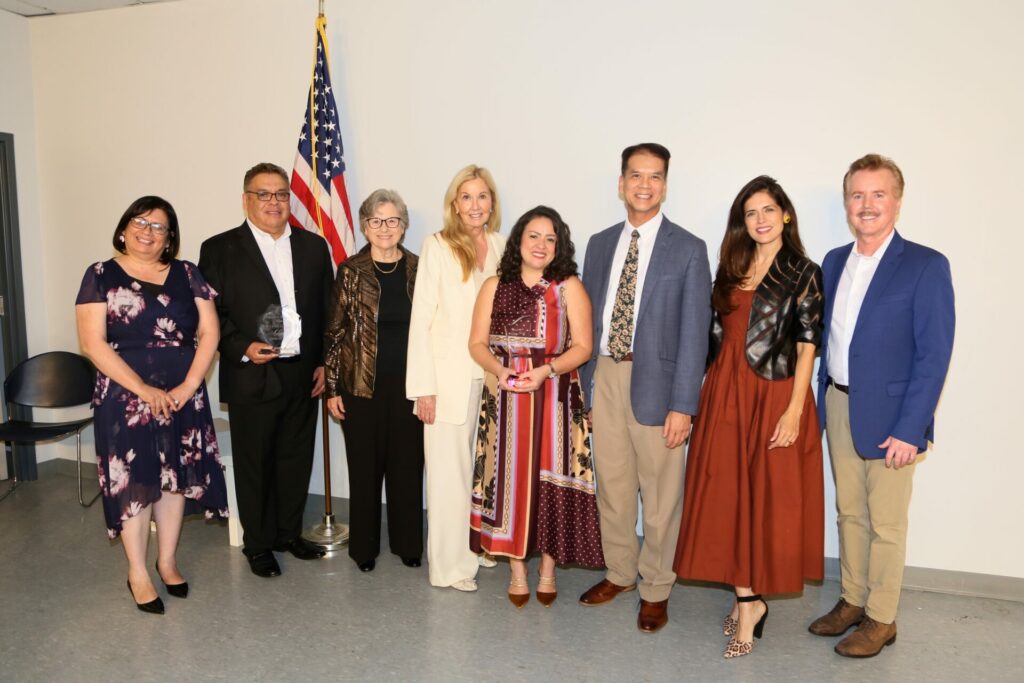 We are deeply grateful to all of you who attended and contributed to !Servicio e Impacto! on Thursday, October 12th, 2023. Thanks to you, we're thrilled to report that we raised over $65,000 (and counting!) in support of our programs and services that build bridges to education and opportunity for over 2,000 children, youth, and adults.
We had three outstanding honorees: 
The Riordan Foundation, introduced by Mary Odell, Board Chair of the Riordan Foundation, was presented with the Riordan Community Impact Award for over thirty years of philanthropic support of PUENTE Learning, including our educational facility, which is named in the former LA mayor Richard Riordan's honor. Mrs. Elizabeth Riordan, wife of late Richard Riordan, received the Award on behalf of the Foundation.
Viviano Juarez, introduced by his wife Diana Juarez, Vice Principal of PUENTE Charter School, received the Volunteer Service Award for 25 years of volunteer service at PUENTE Learning Center, impacting thousands of students and families over the years.
Citi Foundation, introduced by Chun Wong, Board Chair of PUENTE Learning Center, received the Champion for Equity Award for its work to promote economic progress and improve the lives of people in low-income communities around the world. Anabel Santamaria, VP Community Relations at Citi Foundation accepted the Award on behalf of the Foundation.
Emceed by Carolina Márquez, Radio Personality with Cali 93.9, the evening featured inspiring stories from PUENTE leaders, community members and supporters. The evening came to a close with an inspiring performance of Disney's Coco 'El mundo es mi Familia" by PUENTE Charter School students.
On behalf of PUENTE, thank you to everyone who sponsored, supported and participated in the event.